The woman I admire the most professionally… Jane Goodall
"The least I can do is speak out for those who cannot speak for themselves."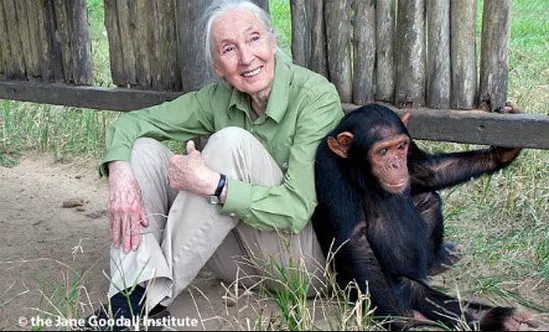 "The least I can do is speak out for those who cannot speak for themselves."
Dr Jane Goodall
Without a doubt, the person I admire the most professionally is Dr Jane Goodall… which may seem strange considering she is in a very different line of work. But I admire her not only for her amazing 60+ year career, but for everything she stands for as a human being.
My admiration for Dr Jane Goodall began many years ago, when as a child I loved animals and had a particular fascination for primates. I was certain that my lifelong destiny was to become a zoologist and go off and live in the wilds of Africa studying Gorillas (just as Jane had done many years earlier with Chimpanzees). Unfortunately, I soon discovered that sciences were not my forte, and instead my strengths lay in the areas of the humanities and arts.
Whilst a career in zoology wasn't for me, it didn't dampen my love of animals and I have followed Dr Jane Goodall's incredible work in animal and environmental conservation for many years now.For those not familiar with Dr Jane Goodall here's a very brief background… She best known for her ground-breaking studies of chimpanzee social and family life in Gombe Stream National Park, Tanzania. She ventured into this wild and unknown world at the tender age of 26 from her comfortable home in England. I can only imagine how terrifying that would have been!
Through nearly 60 years of incredible work, she has raised awareness for the protection of chimpanzees from extinction. She has also redefined species conservation to include the needs of the local people and the environment.
Dr Jane Goodall has inspired me professionally through her passion for what she does, her dedication to achieving her goals and her dogged determination to make this world a better place. Even today, at the age of 84, these characteristics are still very evident as she spends her days travelling the world in order to speak about the threats facing animals and environmental crises. She uses her profile to raise awareness for the plight of the environment, urging all of us to take action on behalf of all living things and the planet we share with them.As a communications professional, I also have a deep admiration for Jane Goodall's ability to deliver her messages in such a powerful and emotive way, even now in her mid-80s! I was lucky enough to see her speak in Sydney last year and I have never witnessed anyone with the same ability to completely captivate an audience – you could hear a pin drop when she spoke, and I doubt there was one audience member that left without having shed a tear that night.
Dr Jane Goodall is a living legend, who has made her passion her career… moreover, it's a career that is not self-serving but contributes to the greater good of man-kind. That's why she is the female I admire the most professionally!
Check out the Jane Goodall Institute to learn more: https://www.janegoodall.org.au